[ad_1]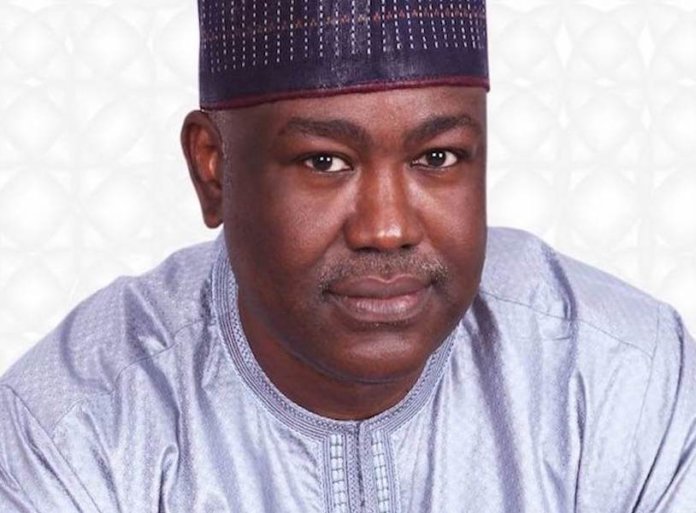 Chieftain of the All Progressives Congress, Mr. Gbenga Olawepo-Hashim is currently on a tour of the country to awaken the consciousness of his supporters, preparatory to a formal declaration of intent to contest the presidential ticket of the party, writes Nseobong Okon-Ekong
One week after he hosted chairmen of political parties from the states in North-central geo-political zone in Abuja on his 2023 ambition, frontline presidential aspirant in the ruling All Progressive Congress (APC), Mr. Gbenga Olawepo-Hashim moved to Ilorin, Kwara State over the weekend to consult with chairmen of the party across the 16 Local Government  Areas.Olawepo-Hashim is no stranger to Kwara politics, having tested his popularity in many election seasons and even contested the governorship position in the state. Many of his allies including Governor AbdulRahman AbdulRazaq are in various positions of responsibility in the current administration in the state. His recent engagement with the political class in Kwara continues the  conversation which he started and intends to drive around different geo-political zones and professional groups in the country.
Olawepo-Hashim who is set to make his official declaration for the Presidential contest before the end of this month, promised to release to Nigerians his perspectives on important matters they want answers to: security, jobs, availability and affordability of petroleum products, stable electricity supply, how to tackle corruption, health, education and infrastructure."
The APC cautioned  cautioned that Nigerians cannot afford to choose the next President from amongst those who have made a career of living on government since 1999, and expect positive changes in their lives and in the country.
The former Presidential candidate argued that "The truth is that some of those who have stayed too long in the status quo have become part of the corrupt system, and it is an illusion to expect Corruption to fight Corruption"
He explained that a corrupt individual/system cannot fight corruption, and so the nation needs a clean break from its ugly past to break the heavy rod of rot off  its back in order to move forward.
In his words:  "either in the APC or PDP or any other party, those whose only job has been to change from one government office to another and have never done any other productive thing apart from squandering government money, driving convoys of cars around that they do not fuel themselves, escorted by security paid for by government, are far removed from the true realities of Nigeria, and are therefore incapable of comprehending the urgency and depth of transformation Nigeria needs.
 "I laugh when I read about someone who has never set up even a barber shop in his or her life promising young people employment. These are people who do not even understand how businesses run" he said.
He noted that the "Solution to national security challenges, the unemployment problem, high cost of petroleum products and basic items requires new approach to handle that those who have never paid for anything they consume in the past 23 years cannot understand."
Olawepo-Hashim disclosed that one of the things that attracted him to the APC is the President Muhammadu Buhari's belief that corruption must be crushed in Nigeria, but added that sadly, corruption has become one of the major reason for the slow progress, and the underbelly of some of the nation's security problems such as banditry and kidnappings.
According to him, "Nigeria loses a lot to corruption. According to Price Water Cooper (PWC), a global Consulting outfit, if not arrested by 2030, corruption will be costing Nigeria 37% of her GDP; i.e. 200 billion USD, a whooping N100 trillion (Naira), about 15  times our national budget."
"This will translate to 1,000 USD per capital; five hundred thousand by each Nigerian. The significance of this on our lives, in terms of avoidable death is staggering."
At the Kwara parley, Olawepo-Hashim restated his desire to seek the ticket of his party, and subsequently lead the country back to the path of growth and development in 2023. While informing the gathering of his intention to formally declare for the race on Tuesday, May 3rd, 2022, he expressed his commitment to unite the country which he said is "presently badly divided along ethnic and religious lines."
He assured the crowd of keeping his promise of running an inclusive government to accommodate various tendencies in order to heal and assuage the pains arising from the various divisions and controversies across the nation.
He maintained that the "solution to National Security, the Unemployment problem, High cost of Petroleum products and basic items requires new and fresh approach to handle, that those who have never paid for anything they consume in the past 23 years cannot understand. 
He also used the occasion to applaud the performance of the state governor in the last three years and subsequently endorsed his second term bid to govern the state in 2023.
 According to him, worthy of commendation is the governor's policy of giving political space to youths and women, while also commending his efforts to restore the dignity of the state in the areas of education, infrastructures and human capital development.
During his earlier visit to the state late last year, Olawepo-Hashim had maintained that the liberation of Kwara took several decades and inflicted several battle scars on the participants, adding that the state must not be allowed to go back to slavery and socio-political emasculation that had arrested the progress of the state for many years.
The chairmen, many of whom are traditional political associates of the aspirant pledged their loyalty and support to who they say "he is our own and ally of our Governor".
According to Segun Awogbade, Chairman, Isin Council, "Mr Olawepo-Hashim is a very kind man, I have been his supporter for 25 years," while Alhaji Shehu Yahaya, Chairman, Asa added that "we fought for the freedom of  Kwara together as our leader."
[ad_2]

Source link