[ad_1]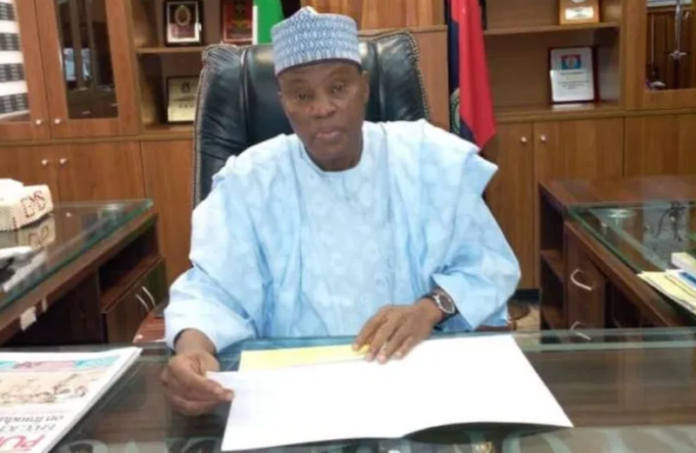 Amid sustained attacks by terrorists that claimed at least 1,974 lives and led to 1, 844 cases of abduction in the 2022 first quarter, the federal government last week again called for divine intervention to end insecurity in the country. While acknowledging God's role in building a new Nigeria, Gboyega Akinsanmi writes that no serious government relies on divine intervention to tackle security challenges 
For the second time in 2022, the federal government last Monday called for divine intervention to stem the rising spate of insecurity nationwide, especially in the North and South-east. The call was a strong indication of government's inability to guarantee public safety and internal stability in a world gradually drifting towards a new order with the Russia-Ukraine war. 
President Muhammadu Buhari had on January 8 called for God's intervention to defeat non-state actors, whose activities and operations had completely thrown Nigeria off the balance. Buhari, through his Minister of State for Agriculture, Mustapha Babai at a national prayer session in Kano, observed that there "is need for divine intervention despite support to the armed forces."
The latest of such defeatist's call came from the Minister of Defence, Maj. Gen. Bashir Magashi shortly after terrorist groups had fired mortar at some civilian targets in Gujba Local Government Area of Yobe State, barely three weeks after bandits attacked an Abuja-Kaduna passenger train.
 In his Easter message, specifically, Magashi recommended two non-military antidotes to restore public order and put Nigeria on the path to economic growth. He first emphasised the imperatives of embracing religious harmony among Nigerians across all faiths. He equally asked Nigerians "to pray that God give Nigeria victory in all its campaigns against security threats." Magashi's concern was an indication that socio-economic and political grievance, as shown in the Nigeria Security Tracker (NST), a project of the Council on Foreign Relations, has precipitated a rebellion by the downtrodden in the North.
Former President Olusegun Obasanjo had also rightly observed that unlike any time in its recent history, Nigeria "is currently in a situation that has overwhelmed Buhari's administration," which won election in 2015 and re-election in 2019 on a tripod of anti-corruption war, economy and security. Nothing more pragmatically delineates Magashi's concern than the frequency of abduction and killing that daily take place across the federation. Global Rights, an international non-governmental organisation founded in Washington D.C. in 1978, mapped out the magnitude of insecurity in Nigeria in the first quarter report of its Mass Atrocities Casualties Tracking.
In January, for instance, 740 persons fell to armed attacks across the federation; 593 in February and 641 in March. In aggregate, as shown in the tracking report, at least 1,974 lost their lives to armed violence in the 2022 first quarter. When compared to 1,403 casualties recorded in the 2021 first quarter, its variation represents an increase of about 40.69 per cent.
Within the same timeframe, the trajectory of abduction also calls for national concern. In January, according to Global Rights, 586 persons were kidnapped nationwide, 604 in February and 654 in March. Cumulatively, 1,844 persons were kidnaped in the 2022 first quarter, which indicated an increase of 4.12 per cent above 1771 abduction cases recorded in the 2021 first quarter.  Emeritus Professor of Comparative Politics, Prof. John A. Ayoade recently argued that the figures suggest that there is a gap, which the governments – federal, state and local – have failed to fill to avert citizens' resort to armed struggle or violence. There should be no justification for Magashi's call for divine intervention, if the governments has not failed to discharge their responsibilities enshrined in the 1999 Constitution. Also, there should be no basis for making pleas to God to step into a situation, which a human rights lawyer, Mr. Femi Falana claimed, is an outcome of criminal diversion of public funds by unpatriotic political class.
Falana's argument is premised on the disconnect between the governing elites and the core values of the 1999 Constitution they were elected to uphold. In its preamble, for instance, the 1999 Constitution states that the people of Nigeria resolve "to live in unity and harmony as one indivisible and indissoluble sovereign nation under God… for the purpose of promoting the good government and welfare of all persons in our country, on the principles of freedom, equality and justice, and for the purpose of consolidating the unity of our people."
 Also, in its Chapter II, the 1999 Constitution documents in detail the obligations of the governments to the people and that of the people of the governments. Section 14 (2)(b), specifically, declares that the security and welfare of the people "shall be the primary purpose of government…" In the same way, Section 18 states that government "shall direct its policy towards ensuring that there are equal and adequate educational opportunities at all levels."
As the emeritus professor has observed, the governments have not just failed to address the physical security of the citizenry. He further argued that they have equally failed to provide them social security, which should, as a matter of national priority, be their core responsibilities under the Constitution of the Federal Republic of Nigeria, 1999. Citing a study by the United Nations International Children's Emergency Fund (UNICEF), Falana established strong relationship between the growing figure of out-of-school children and insecurity in the North, a region that currently accounts for about 66.91 per cent of 10.19 million out-of-school children, as indicated in the data obtained from the Universal Basic Education Commission.
In its 2018 study, specifically, UNICEF put the estimated number of out-of-school children between five and 14 years at about 10.5 million. Falana had lamented that these children were roaming the streets without hope for their tomorrow. Obviously, according to him, such children are always ready to be recruited by the criminal gangs and take up arms against the federation.
The governments have equally breached public trust due to what other credible reports described as their failure to create an environment that offers unlimited opportunities. This failure, as shown in the Nigeria Poverty Assessment 2022, a report by the World Bank, compounded the challenges of extreme poverty and inequality across the federation. According to the World Bank, as many as four in 10 Nigerians now live below the national poverty line. The Bank further analysed diverse socio-economic triggers that forced 95.1 million citizens into the cycle of extreme poverty. This trend had created a horde of hopeless citizens despite Buhari's promise to pull 100 million out of abject poverty, which further reinforces Ayoade's argument that the governments have failed to duly discharge their obligations. While divine intervention is desirable in the affairs of all nations globally, Ayoade correlated the country's worsening security challenges to the failure of the governments to discharge their core duties under the 1999 Constitution, which according to him, triggered rebellion of the frustrated citizens to embrace criminalities as a means of living.
[ad_2]

Source link