By Iffy
Passengers aboard a BRT Bus with number plate LSR 219XS, enroute Ikorodu, on Saturday evening speared nothing as they rained invectives on the driver of a Lagos Blue Bus for stopping at numerous bus stops and picking up passengers, indiscriminately, leading to overcrowding of the vehicle.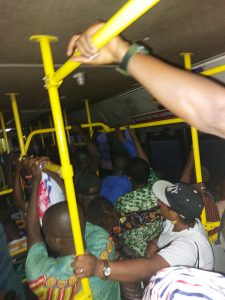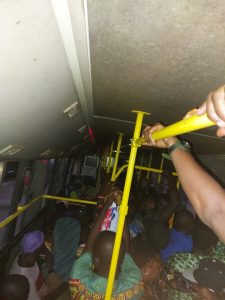 NwafoLive reports that the aggrieved passengers who had earlier boarded the empty bus at Barracks bus stop, had warned the driver when he stopped and picked up more passengers at Onipanu bus stop, emphasizing that the bus was over loaded.
The passengers, especially those standing, lamented over crowding and no air conditioning on the bus, which made it uncomfortable on such a long trip.
The Driver, giving no heed to their complaint, stopped a second time at Anthony bus stop, thereby provoking the passengers, both sitting and standing, who burst out in a frenzy.
The angry passengers in protest, pulled up a front, with their bodies,  blocking and refusing further entry into the vehicle, while dishing out curses on the driver and officials for being insensitive.